Summer Fridays....gotta love em! I am linking up with Doodle Bugs Teaching for Five for Friday to share my 5 randoms from this week!
1. I began blogging again this week and I'm loving it! Playing with graphics, designing and posting is bringing me a whole new kind of joy.....and keeping me occupied. I look forward to getting to know more bloggers.
2. Instagram! Now....I have been an insta-addict for quite some time on my personal account (over 200 pics ;) ) but I'm also loooooving my blog/teacher instagram. Being a visual creature it's so great to see everyone's classrooms, and projects and parts of their personal life. Love....love....love!
3. This week I received my first donor for my first donor's choose project. I let out a very girlish squeal of excitement when I received the notification. LOL. I am sooooo close to being fully funded! *does a dance* Great inspiration to continue grant writing through this wonderful, wonderful site. Teachers if you have not yet please please check it out!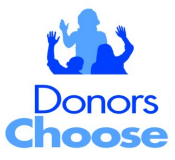 4. This weekend I want to try this diy ombre nails tutorial found on no other site than Pinterest! I am going to use Essie polish (love Essie). The names of the polishes I will use are lilacism and jamaica me crazy! Let's see how this turns out!
5. I have been working on my first project for the classroom. I tore up target and the dollar store this week gathering supplies for this time consuming but fun project. I am already thinking of all the wonderful ways my students can use this new tool. I am also working on my first offered freebie so look out for that very soon!
Can you guess what project I'm working on?
Link up to share your five randoms from the week!