My second post and my first time joining a linky party. I am linking up with Farley at
Oh'Boy Fourth Grade
for the June Currently. It's so funny because I've been alllllll over the teaching blogs since forever and saw these everywhere! Without further ado....my currrently!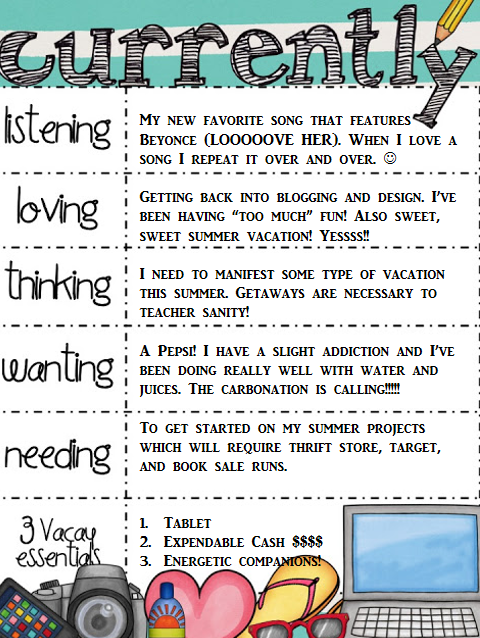 Listening Music is my everything. I've had this one song on repeat. My step dad played songs over and over and over and OVER when he loved it....guess I picked up the habit. Major jam sesh right now!
Loving As stated in my first blog post I was self taught with web design, graphics etc. and had to reteach in order to get this blog going. Getting back into it has rejuvenated me. Loving being back in blog world. And summer vacay.....what's not to love though?
Thinking My best friend called yesterday wanting to make plans for a spare of the moment vacation and I am dooooownnn! I'm enjoying relaxing at home but I wanna get away.
Me + Beach = Love <3
Wanting Pepsi! Oh Pepsi! How I love thee. Each school day I had to have my coffee in the morning and a pepsi at lunch time. I knooooow I need to cut out one and pepsi was the one but every now and then I have to feed my addiction.
Needing I have a few summer projects I NEED to work on. The first step is writing them all down, setting goals for things to be accomplished and then getting on with it! A few of the projects I intend to work on are crate seats and the beloved teacher's toolbox! Yay!
3 Vacay Essentials I need my Toshiba thrive tablet for entertainment..... kindle books, music, instagram, games and more! It does it all. Need. Need. Need!
Expendable Cash $$$$$ Does that really need explaining? Going on a vacay with no mulah....bad idea!
Great Company! What is a vacation without those down for anything, "sleep? what's that?" vacation companions. Typically, I can make my own great time but on vacation you want to spend it with people you love and people that you will have fun with!